Good news people! Today, Rainmaker Entertainment Inc. President and Chief Creative Officer Michael Hefferon, and Blockade Entertainment CEO Brad Foxhoven, announced the celebrity voice cast!




Paul Giamatti (The Amazing Spider-Man 2, San Andreas) as "Chairman Drek"; John Goodman (Monsters, Inc., Transformers: Age of Extinction) as "Grimroth"; Bella Thorne (Blended) as "Cora"; Rosario Dawson (Marvel's Daredevil, Sin City) as "Elaris"; and the one and only Sylvester Stallone as "Victor".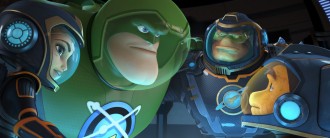 It is possible that "Cora" is the woman on the left, and "Grimroth" is the man on the right. As for Chairman Drek's voice, what do you think? Is it a good fit, or would Kevin Richardson do it better?